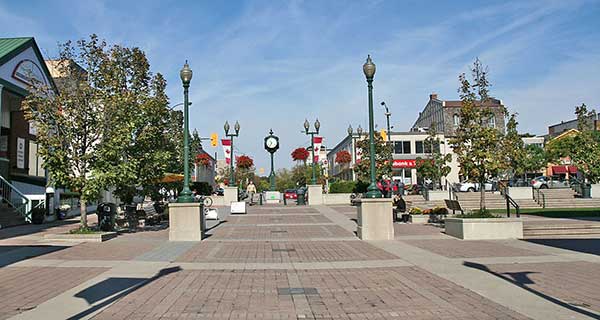 About the Town of Oakville
Oakville is a suburban town in Southern Ontario, Canada. Located in Halton Region, on Lake Ontario, it is part of the Greater Toronto Area. As of the 2011 census the population was 182,520.
Background Information
Oakville's first industries included shipbuilding, timber shipment, and wheat farming. In the 1850s, there was an economic recession and the foundry, the most important industry in town, was closed. Basket-making became a major industry in the town, and the Grand Trunk Railway was built through it.
The town eventually became industrialized with the opening of Cities Service Canada (later BP Canada, and now Petro Canada) and Shell Canada oil refineries (both now closed), the Procor factory (no longer manufacturing), and, most importantly, the Ford Motor Company's Canadian headquarters and plant, all close to the Canadian National Railway and the Queen Elizabeth Way highway between Toronto and Fort Erie (Buffalo).
In 1962 the town of Oakville merged with its neighbouring villages (Bronte, Palermo, Sheridan, and the remainder of Trafalgar Township) to become the new Town of Oakville, reaching northwards to Steeles Avenue in Milton. In 1973, the restructuring of Halton County into Halton Region brought the northern border southwards to just north of the future Highway 407.
Oakville Demographics
According to the 2011 Canadian Census Oakville had 182,520 residents. This represents a 10.2% increase since the 2006 Census.
According to the 2006 census, Oakville had a younger population than Canada as a whole. Minors (youth under 19 years of age) totalled 28.1 percent of the population compared to pensioners who number 11.7 percent. This compares with the Canadian average of 24.4 percent (minors) and 13.7 percent (pensioners).
Because of its proximity to Toronto, Oakville is becoming increasingly diverse. As of 2006, 81.2% of the population was white. Other groups include South Asian: 6.0%, Chinese: 3.2%, black: 2.1%, and mixed race: 2%
According to the 2011 Census, 69.6% of Oakville residents have English as their mother tongue (the corresponding figure for French is 1.8%). Polish is the native language for 1.5% of the population, followed by Italian, Portuguese, and Spanish (at 1.4% each).
79.4% of residents stated their religion as Christian, almost evenly split between Roman Catholics and Protestants. Non-Christian religions include Islam: 2.0%, Hinduism: 1.3%, Sikhism: 1.1%, and Judaism: 0.7%. 14% indicated no religion.
The median household income is $101,675 with an average house value of $720,943.
All information about Oakville courtesy of Wikipedia.