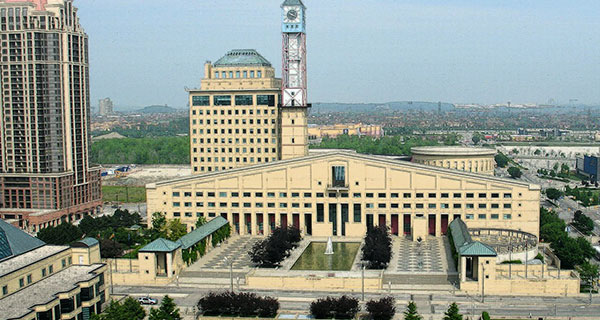 About the City of Mississauga
Mississauga is a city in Southern Ontario, Canada. It lies on the shores of Lake Ontario, located in the Regional Municipality of Peel, in the western part of the Greater Toronto Area. The city has a population of 713,443 as of the Canada 2011 Census, and is Canada's sixth-most populous municipality.
Initially developed as a suburb of Toronto, Mississauga's growth is attributed to its proximity to that city. It is the largest suburb in Anglo-America by population. However, as the city ran out of vacant lands, the city shifted its focus to building a full-fledged downtown core while shaping its new identity as a distinct city from Toronto. Residents of the city are called Mississaugans and Saugans.
The city is placed first overall in 'mid-sized cities of the future' by financial publication fDi Magazine for North and South American cities, placing first in business friendliness, second in economic potential, and fourth in infrastructure and foreign direct investment strategy. Mississauga was also rated as Canada's 11th best city to live in terms of prosperity according to MoneySense magazine. It is the fourth most walkable large city in Canada according to Walk Score. Toronto Pearson International Airport, Canada's busiest airport is located in the city, and it is the location of several major corporate headquarters for Canada, such as Walmart Canada, Target Canada, Microsoft and General Electric.
Background Information
Toronto Township, consisting of most of present-day Mississauga, was formed on August 2, 1805 when officials from York (what is now Toronto) purchased 84,000 acres (340 km²) of land from the Mississauga Tribe. The original villages (and some later towns) settled included: Lakeview, Clarkson, Cooksville, Dixie, Erindale, Lorne Park, Port Credit, Sheridan, and Summerville. This region would become known as Toronto Township. Part of northeast Mississauga, including the Airport lands and Malton were part of Gore Township. In 1820, the government purchased additional land from the Mississaugas. Additional settlements were established, including: Barbertown, Britannia, Burnhamthorpe, Derry West, Elmbank, Malton, Meadowvale Village, Mount Charles, and Streetsville.
In 1873, in light of the continued growth seen in this area much as a result of the many railway lines passing through the township which spurred on industry, the Toronto Township Council was formed to oversee the affairs of the various villages that were unincorporated at that time. The Council's responsibilities included road maintenance, the establishment of a police force, and mail delivery service. Except for small villages, some gristmills and brickworks served by railway lines, most of present-day Mississauga was agricultural land, including fruit orchards, through much of the 19th and first half of the 20th century.
Cottages were constructed along Lake Ontario in the 1920s as weekend getaway houses for city dwellers. Malton Airport opened in 1937, which would become Canada's busiest, Lester B. Pearson International Airport.
The Queen Elizabeth Way (QEW) highway, one of the first controlled access highways in the world opened from Highway 27 to Highway 10, Port Credit, in 1935 and later to Hamilton and Niagara in 1939. The first prototypical suburban developments occurred around the same time, in the area south of the Dixie Road/QEW interchange. Development in general moved north and west from there over time and around established towns. Large-scale developments, such as in Meadowvale and Erin Mills, sprang up in the 1960s and 70s.
With the exception of Port Credit and Streetsville, the township settlements of Lakeview, Cooksville, Lorne Park, Clarkson, Erindale, Sheridan, Dixie, Meadowvale Village, and Malton were amalgamated by a somewhat unpopular provincial decree in 1968 to form the Town of Mississauga. The town name was chosen by plebiscite over "Sheridan". Political will, as well as a belief that a larger city would be a hegemony in Peel County, kept Port Credit and Streetsville as independent island towns encircled by the Town of Mississauga. In 1974, both were annexed by Mississauga when it reincorporated as a city. That year, the sprawling Square One Shopping Centre opened, which has since expanded many times.
On January 1, 2010, Mississauga bought land from the Town of Milton and expanded its border by 400 acres (1.6 km2) to Hwy. 407 affecting 25 residents.
Mississauga Demographics
Mississauga is a fast-growing and multicultural city. Statistics Canada estimates that Mississauga now has 734,000 people, an increase of 150,000 from the previous decade and the population has roughly doubled in past twenty-five years. Mississauga is now the third most populous city on the Great Lakes; far smaller than Chicago and Toronto, but recently surpassing the cities proper of Detroit, Milwaukee, and Cleveland.
About 44% of the population speaks a language other than English, and 49% of the population are members of a visible minority (non-white or non-aboriginal). 21.29% of the population is under 14 years of age, compared to those of retirement age; 8.51%. The median (middle) age in Mississauga is 35.0.
Christianity is the majority faith of the city. The 2001 census indicated that 69.78% of the population adhere to Christianity, with Catholics constituting 42.00%, while the remaining 27.78% adhere to various Protestant, and Orthodox Christian groups. Other practiced faiths were Islam (6.83%), Hinduism (4.73%) Sikhism (3.82%), Buddhism, and Judaism.
The Economy in Mississauga
Over 60 of the Fortune 500 base their Global or Canadian Head Offices in Mississauga. Some of the strongest industries are pharmaceuticals, banking and finance, electronics and computers, transportation parts and equipment industries.
Citibank Canada, has 2 corporate IT development centres in Mississauga. TD Bank Financial, also has 3 Corporate IT development centres in Mississauga along with Royal Bank of Canada. Microsoft Canada is also located in Mississauga, and Laura Secord Chocolates is headquartered in Mississauga. Hewlett Packard's main Canada offices are in Mississauga. Air Georgian, a regional airline, is headquartered in Mississauga. Air Canada Jazz operates a regional office in Mississauga. Kam Air has its North American office in Mississauga. In addition both Walmart Canada and Target Canada have their Canada head offices in Mississauga.
All information about Mississauga courtesy of Wikipedia.